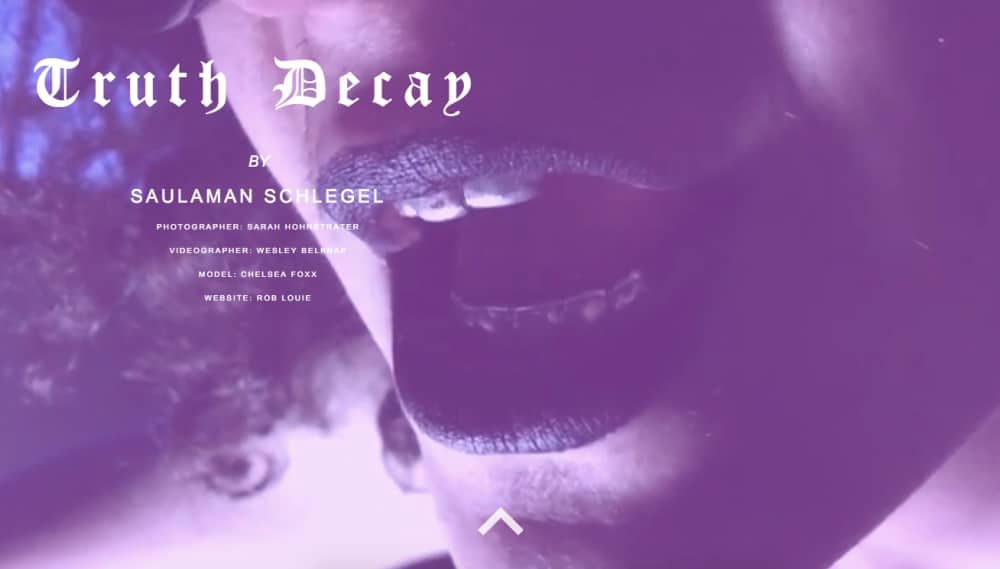 Side Project Retrospective: Truth Decay
I made this site for my friend Saul for his brilliant art project "Truth Decay".  A combination of photography, videography, modeling, and sculpture/fashion design, I was really psyched to get to do the website for the project.  Also, Saul said he would make me a painting as payment, so I also did it for a painting (you still owe me Saul <3).  Site is here: Truth Decay
From a technical standpoint the site is fairly simple, I wanted it to be as out of the way of the art as possible, and simply present the content as best I could.  I think the site came out brilliantly, but that's really because I got to work with some great source material.
I got to do some cool stuff on the site I don't normally get to play with, namely doing a video background and creating a custom photo gallery.  Video backgrounds are a simple technique but on the right site it adds a lot, and I think it really works here.
For the photo gallery, I just couldn't find a pre-made one that was good enough to use here.  I wanted one that would present the images as largely as possible, while also being responsive.  In the image above you can see the image selection is on the left, with small bars separating the different themes of the collection.  The image selection stays on the left until the width of the window shrinks down, then it moves to the bottom, and the whole thing works well on all devices.
Check out Truth Decay and let me know what you think in the comments: Truth Decay